As Democrats continue to make so-called climate change the pinnacle of their campaigns, one film takes a closer look at the left's true intentions with their claims.
One America's Christina Bobb spoke with climate contrarian Marc Morano on the matter.
When COVID came along and the entire world went into a grip of fear and immediately started locking down, everything the climate activists had been demanding almost happened almost overnight.
The COVID lockdown is a trial run for the climate lockdown.
The World Economic Forum they've come out and called for — based on COVID and climate — a Great Reset. They are not letting a crisis go to waste. They're calling for a socialist great reset against capitalism. These are the words of the founder of the world economic forum. They're going to try to morph climate and COVID together and you're going to go from a COVID lockdown to a climate lockdown.
In addition, academics in Australia are calling for climate change to be added to your death certificate as a cause of death. We are facing the prospect of daily, monthly, annual death tolls, of people who died from climate change. Climate activists see the fear, the emotional toll of daily death counts, so the climate movement is copying the COVID crisis."
Background links: 
Calls to add 'climate change' to death certificates – New study demands 'climate change' be added as 'pre-existing condition'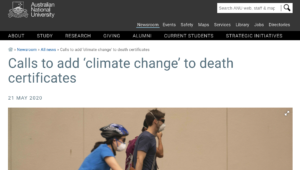 Cause of Death? Climate Change.
"Climate change is a killer, but we don't acknowledge it on death certificates," co-author Dr Arnagretta Hunter, from The Australian National University (ANU) Medical School, said. "There is second component on a death certificate which allows for pre-existing conditions and other factors.
"If you have an asthma attack and die during heavy smoke exposure from bushfires, the death certificate should include that information. We can make a diagnosis of disease like coronavirus, but we are less literate in environmental determinants like hot weather or bushfire smoke." …
"Climate change is the single greatest health threat that we face globally even after we recover from coronavirus," Dr. Hunter said.
'A planned economic recession': Global warming prof. Kevin Anderson – who has 'cut back on showering' to save planet – asserts economic 'de-growth' is needed to fight climate change