The Ukrainian military on Saturday admitted that the "Ghost of Kyiv" was a made-up hoax — right as dozens of controlled media outlets were running articles identifying the "legendary pilot" as Major Stepan Tarabalka and reporting that he had died heroically after downing some 40 Russian fighter jets.
From Task & Purpose:
Ukrainian military confirms 'The Ghost of Kyiv' is made up

"The Ghost of Kyiv is alive and embodies a collective image," a Ukrainian military spokesman said.

BY NICHOLAS SLAYTON | PUBLISHED APR 30, 2022 8:08 PM

The viral tale of the so-called "Ghost of Kyiv" — a lone Ukrainian ace fighter pilot credited with at least six kills in the skies, with some claims putting the number up to 40 — has been officially denounced by the Ukrainian military after a pilot who died in March was identified as the Ghost by multiple media outlets, including The Times of London.

"The Ghost of Kyiv is alive and embodies a collective image of the highly qualified pilots of the tactical aviation brigade successfully defending Kyiv and the surrounding region," Yuriy Ignat, a Ukrainian Air Force spokesman, told The London Times, after the paper, citing "Ukrainian sources," identified the pilot as Maj. Stepan Tarabalka and reported he had been shot down on March 13 while fighting "overwhelming" enemy forces.

The Ukrainian military denied those claims.
The urban legend of the "Ghost" spread fast over social media early in the war, with the Ukrainian Ministry of Defense even tweeting out a video it claimed showed the pilot beating a Russian jet. The footage was later revealed to be from a flight simulator. […]

Notably, while Ukraine's denial of the 'Ghost's' existence is new, news of Tarabalka's death is not. NPR reported on the pilot's demise in March and even interviewed his parents. He is buried in the town of Korolivka. However, officials and family members who spoke with NPR's Eric Westervelt made no mention of the Ghost of Kyiv or claimed he was Tarabalka. Westervelt noted that Tarabalka had flown sorties in 2014 during the initial fighting in Ukraine's Donbas region. His kill count in the skies has not been disclosed, although Ghost or not, it's incredibly unlikely he got the 40 mythical kills of the viral legend.
This hoax was the biggest story of the entire war and the controlled media spread this disinformation to every corner of the globe.
They're still spreading this hoax as we speak.
It was all a lie — a lie that was obvious from the very beginning.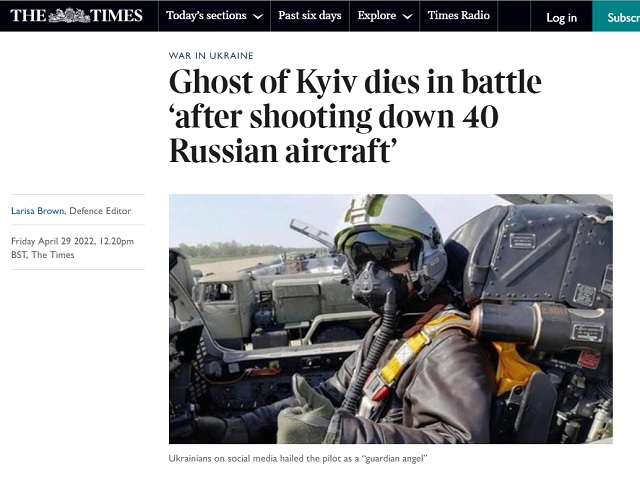 Rep. Adam Kinzinger was so stupid he not only believed the fake story but fell for a photoshopped meme identifying the Ghost of Kyiv as "Samuyil Hyde," aka comedian Sam Hyde.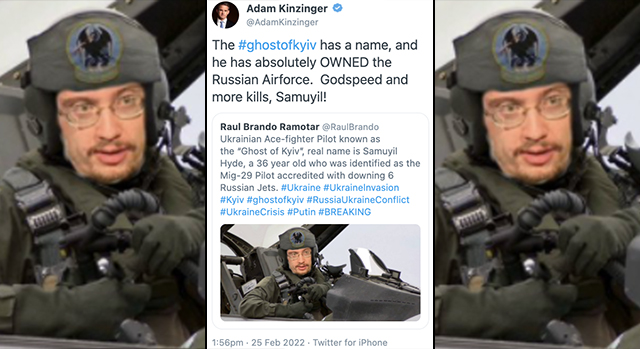 This lie was spread by journos with virtually every major media outlet — all while they were demanding their alt-media competitors be banned for "disinformation" (not to mention RT and Sputnik).
DHS disinformation czar Nina Jankowicz hasn't said anything to correct this disinformation, nor has her boss Alejandro Mayorkas.
Nearly all the "experts" on "disinformation" were more than happy to let this lie go because it advanced the regime's interests.
Not one single news outlet which ran with this hoax will get banned from social media or algorithmically censored by Google for spreading it. No one will be down-rated by NewsGuard. No one will be demonetized and no one will lose their PayPal account or credit card processor. Such treatment is reserved only for those who tell the truth.