In March, I began documenting schools across the country carrying the pornographic book, Gender Queer. The book details sexually explicit acts (e.g., oral sex) and is becoming increasingly accessible to school children. I took a screenshot of the book's availability at a school district in Florida, Hillsborough County School District (HCSD), and saved it with the others.
This week, I decided to go back and review the schools that previously offered the book to see if it was still available, as Gender Queer has faced intense scrutiny for its provocative content. HCSD, which had Gender Queer available in March, suddenly appeared to have removed the book, with the website saying the availability was "unknown."  Another page said it that was "unavailable."
Seeing this I thought, "Wow… maybe this district isn't totally rotten to the core and quietly removed the book." I hadn't seen any media coverage about HCSD, which is the 7th largest school district in the country, removing the book. I decided to reach out to HCSD's library team via email to get some information on the new status.
The response was quick and the HCSD Director of Public Relations, Erin Maloney, explained that Gender Queer "has not been removed" and it was simply a technical error.
I wanted to verify that the school district was aware of the pornographic material in the book they were offering so I emailed back (seen below) and included pages from Gender Queer asking HCSD to confirm. The reply was again quick, "The correct information is displayed on that site you are referencing." In other words, "Yes, we offer porn for students."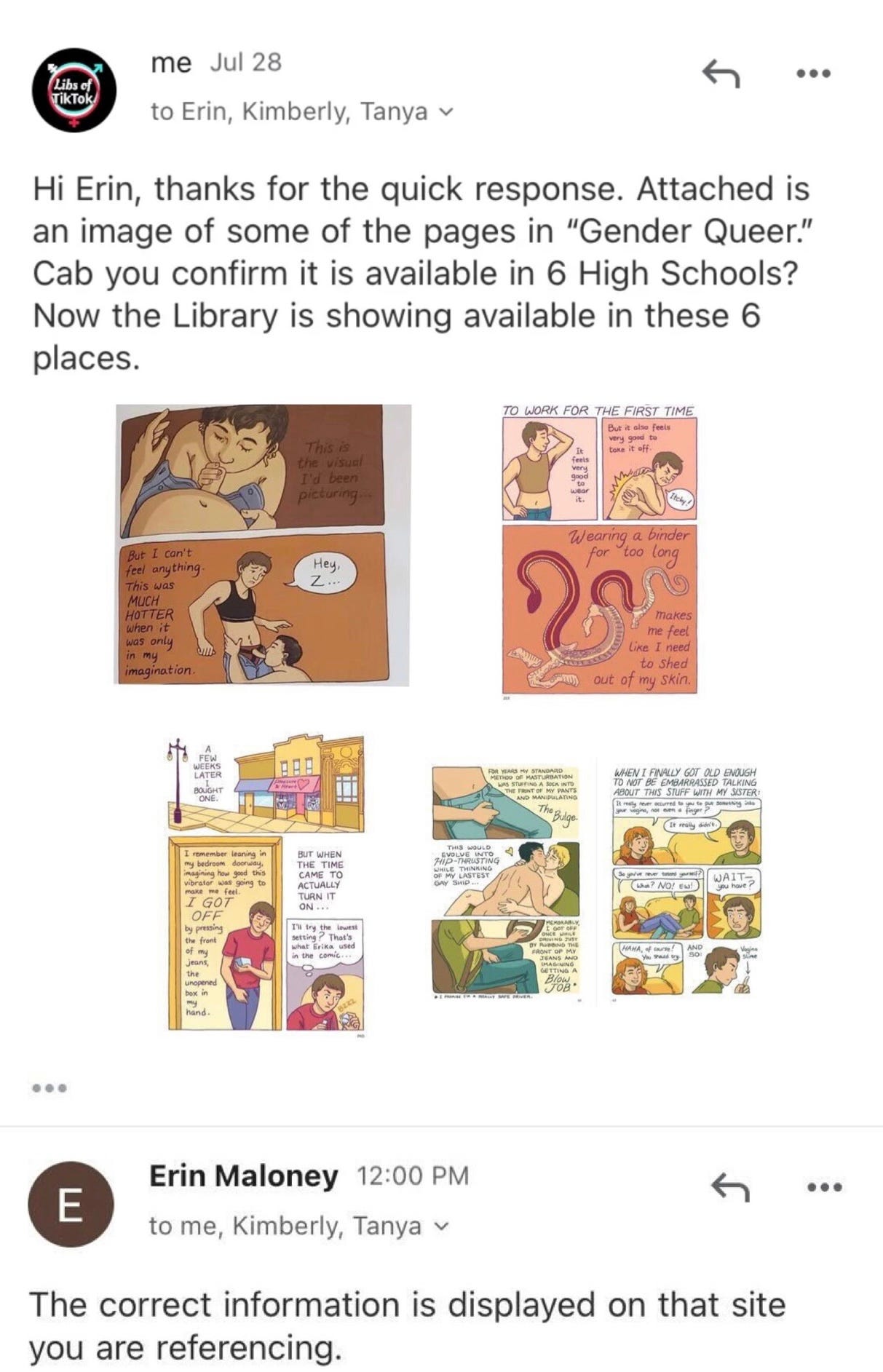 After a deep dive into Erin Maloney's social media activity, the HCSD Director of Public Relations appears to hold a distaste for parents who voice concerns at school board meetings and conservatives.
Maloney has liked social media posts insulting vocal parents. After Beto O'Rourke interrupted a press conference to yell at Texas Governor Greg Abbott, Maloney liked a tweet saying, "The people most upset about Beto's manners were totally fine when it was parents yelling at school board members last year."
Maloney also liked a tweet that called all of the conservative Supreme Court justices liars after the reversal of Roe v. Wade.
These schools are knowingly offering porn to students and those in positions of power loathe the parents who speak up. Posting pages from Gender Queer will get your account censored or locked on Facebook and Instagram. Parents have been shut down at school board meetings for reading from the book because it's too "obscene" for a public meeting. Despite the book being too sexually explicit for social media and public meetings, Gender Queer is readily available for your child in Hillsborough County School District and schools across America.
Florida Governor Ron DeSantis' Press Secretary, Christina Pushaw, spoke to Libs of TikTok regarding HCSD offering Gender Queer to students saying, "Under the curriculum transparency law that Governor DeSantis signed this year, effective as of July 1, Florida parents have the right to inspect materials in their kid's school and challenge anything that they find inappropriate. We encourage all parents to know their rights and work with their child's school/district to ensure that no pornographic material is accessible to kids."
Source: Libsoftiktok